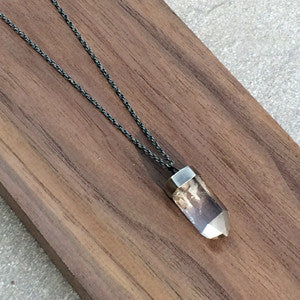 MUSE NECKLACE
This one-of-a-kind Brazilian clear quartz crystal with gorgeous, golden rutile mineral inclusions is set in a hand forged, oxidized sterling silver cap bezel. A delicate but sturdy interwoven SS rope chain ends with a large lobster clasp and ring.

28" length (custom length upon request)
Crystal size 1-1/8" x 1/2"
materials - Brazilian quartz crystal and sterling silver
Muse Crystal Necklace
Style #N1057-0314